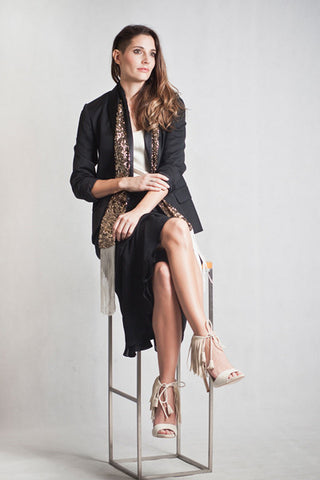 QUICK VIEW
Orly Tuxedo Sequin Scarf
$245.00 USD
We believe that a tuxedo jacket should be a part of every woman's wardrobe.  Our Orly scarf was borne out of the notion that the tuxedo "look" could be created with...
QUICK VIEW
Zena Tie Die For Scarf
$225.00 USD
We have always loved tie dye.  For us, it represents freedom, individuality, and travel.  We wanted to capture the essense of this artform but give it an Airess twist.  Our...
QUICK VIEW
Isla Linen Scarf
$125.00 USD
The first thing that goes into our suitcase for a beach holiday is our Isla Scarf.  Made of 100% organic linen, our scarf is made entirely by hand and that...
QUICK VIEW
Laurent Gros Grain Chain Belt
$195.00 USD
Our Laurent Belt can be worn as a belt or a necklace, and is handmade by us!  The chunkiness of the chain juxtaposed with the refinement of the gross grain...
QUICK VIEW
Lola Leather Trimmed Belt
$95.00 USD
Our Lola Belt is made of textured elastic band and trimmed with leather.  Wear it over our "Artist" Shirt or our "Alexandra" Cardi and add a bit of sophistication to...